Welcome to the Van Lear Historical Society Web Site.
Some History Of Van Lear Kentucky
Consolidation Coal's Office Building Turns 100 years Old (now the coal miners museum)1913-2013 !

Van Lear, Kentucky, was incorporated in 1912 in Johnson County. Named for Van Lear Black, a director of Consolidation Coal Company, the town owes its existence to the entrepreneurial efforts of John Caldwell Calhoun Mayo, born in Pike County, Kentucky, who taught in a one-room school near the confluence of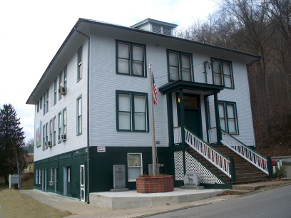 Miller's Creek and Sorghum Hollow. Mayo bought coal rights to lands along Miller's Creek in Johnson County and along Elkhorn Creek in Letcher County, and later sold those rights to Northern Coal and Coke which was later acquired by Consolidation Coal Company of Maryland. Van Lear Black loaned that Company money to construct five miles of railroad into the Johnson County property, and the town was subsequently named for him. Ultimately, five mines were opened, and the reputation of Miller's Creek block coal as a highly desirable domestic heating coal soon grew. Consolidation operated these mines from 1910 through 1946 when the company divested itself of its Miller's Creek properties. Individuals then residing in the company houses were given first chance to purchase their homes, and many of them did. The town, however, went into decline. Ultimately, most of the major buildings were torn down,and the railroad removed. In 1981, a first-ever school reunion was held. The following year, the non-profit Van Lear Historical Society was organized, adopting as its aim the preservation of the town's history for former, present, and future citizens of Van Lear. In 1983, another school reunion was held in concert with a town celebration, and more than eight hundred people attended, most of them former residents and/or descendants of Van Lear miner families. School reunions are now held every even-numbered year, and the town reunions continue as annual events. Membership dues are a $15 donation per year which includes our quarterly newsletter "The Bankmule". 

More Information About Van Lear, Kentucky